I wish I were in Japan right now, in the countryside, enjoying the summer evening in a crisp cotton yukata robe. I'd fan myself as I clomp around in wooden geta sandals. The chirp of crickets pervades the air…
{{Snapping out of it}}
Back to reality. I'm still in Philly. It's still hot and humid as hell. I don't have bamboo breezes, but I do have air-conditioning. And a long queue of binge-worthy Japanese TV shows.
When temperatures soar, I'm diving into a guilt-free summer of binge-watching. Will you join me? I'll make the popcorn.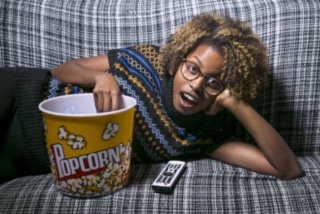 on NETFLIX
Terrace House. In this hit reality TV series, six total strangers move into a luxury house. Imagine MTV's Real World or CBS' Big Brother. But in this show, you also have a panel of commentators reacting to the on-screen antics, romances, and drama.
Samurai Gourmet. A recently retired salaryman discovers his bravery and backbone after being inspired by an imaginary samurai. (Did you know that most companies in Japan have mandatory retirement at age 60? I didn't.) The setup sounds crazy, but the food porn is real. Don't watch this show when you're hungry.
The Mysterious Million Yen Women. Based on a manga, this series is a strange and surreal drama about a struggling novelist. The show stars Rila Fukushima—maybe you saw her in "Game of Thrones" or "The Wolverine"—whose character has a penchant for dining naked. And that's about the least bizarre thing in this series.
Atelier. A young woman lands her dream job in a fashion design house only to be plunged into internal workplace intrigues. Who knew that the lacy lingerie business could be so cutthroat?
My Husband Won't Fit. The couple in this touching drama grapple with tensions related to sex and love.
on AMAZON
Tokyo Girl. It's fun to tag along with a local girl from the sticks who moves to the big city to follow her dream. Spanning decades, the series covers her challenges, laughter, heartbreak, and maturity.
Sunshine Sento-Sake. You'll want to get squeaky clean if you watch this comedy about an underperforming salaryman who is quick to cut out from work if it means he can take a sento bath and grab a drink.
Tokyo Alice. This show follows four best friends as they make their way in careers and romance. Think "Sex and the City" but Tokyo, not New York.
Massage Detective Joe. A crime-solving massage therapist stars in this series of over-the-top, light fun.
Who Killed Daigoro Tokuyama? This dark comedy murder mystery set in a Japanese high school somehow works. The cast members are a J-pop girl group in real (???) life.
Let me know what you think of these shows!
Meanwhile, I'm cranking up the air-conditioning and going back to work on my new thriller.
Stay cool, stay hydrated, stay safe!

Elizabeth